Payment Plans & Insurance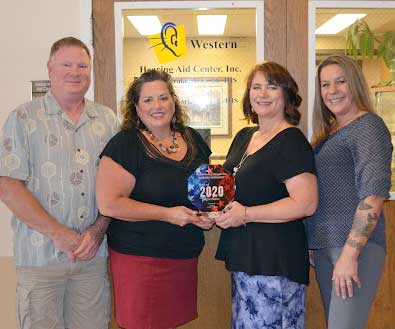 At Western Hearing Aid Center, we care about your health and want to make the payment process as easy as possible. We do our best to stay up on all insurance plans, but they are constantly changing. We are preferred providers for many. We will gladly check your insurance benefits to advise you of the current status of coverage and will accept payment directly from plans that offer coverage.
We work with all 3rd party Worker's compensation programs as well as Washington State's Labor & Industries. If you believe or know you have a noise induced hearing loss caused by the type of work you do, let us help you through the entire process of the claim to get you the benefits you deserve. At Western Hearing Aid Center, we not only accept ALL Worker's Comp Plans, but we help you get your case established and going! Over the last 18 years, we have a near 100% rate of approval on cases we've helped.
Remember you can count on Western Hearing Aid Center
We work with only premium technology and accessories for all of our contracts – of your choice. In addition you will always receive:
FREE Hearing Tests and Evaluations…always.
Honesty and integrity in pricing.
The latest in hearing aids
Hearing rehabilitation
Hearing protection
Zero or low interest financing
Zero or Low Interest Financing Available!
We offer HealthiPlan, Care Credit and NW Access Fund finance plans. With all these choices, we are sure to find a payment solution that will work for you and your budget. They include several zero percent finance options as well as more extended payment plans that have low interest rates available. We also accept all major credit cards.
If you would like more information about our financial policies, please do not hesitate to give us a call or click here to contact us by email. 
Western Hearing Aid Center
Thank You

"Thank you very much for your professional help in choosing the right aids. For me, it has helped improve my hearing as well as improved my ability to understand my business associates and employees that I deal with on a daily basis."
A Caring Service

"I was self-conscious about wearing a hearing aid, but the tiny one that Western Hearing Aid Center fit me with is so small, I don't even realize it is there. I am grateful for the hearing that technology has made this possible…and I'm also very thankful for your caring service. I recommend you to all my friends."
I can now enjoy life.

"It is just amazing how much better my quality of life is since you helped me with my hearing aids. I can finally hear my grandchildren's laughter and the sounds of nature. Thank you Brenda, for your kindness and your experience. I can now enjoy life."
WE CARRY THE LATEST TECHNOLOGY FROM BRANDS YOU TRUST