LiNX Quattro by ReSound: Rechargeable Hearing Aids
Today's "Smart Hearing Aids" are highly sophisticated, easy to use, can be programed to your individual lifestyle and listening needs, and now they are rechargeable as well! Smart hearing aids allow you the ability to wirelessly connect to your smart phone, computer, tablet and television. The sound is then streamed directly to your hearing aids for a better, richer listening experience. The ReSound LiNX Quattro offers you a brilliant experience with layers of sound, utilizing the full microphone range to process the sound in a cleaner way – free of distortion.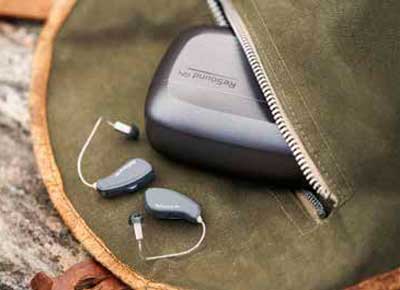 For those on the go, this device is available with a convenient rechargeable option, so you can enjoy everything a smart hearing device has to offer with pocket-size power that will never let you down. The LiNX Quattro features a small, discreet in size and long-lasting battery, that has the power to last all day long – without having to fiddle with any batteries. If you are out and about and do forget to charge your hearing aids, the convienient portable case's built in battery holds three full charges of power, giving you the freedom to charge anywhere.
Schedule an appointment today for a FREE hearing aid demonstration and we will assist in answering any questions and help you determine the best device for your degree of hearing loss & lifestyle.